Mike Flynt: Ultimate Weekend Warrior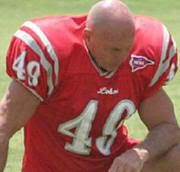 By now you've probably heard about Mike Flynt, the 59-year-old man who makes all of us (except for my tennis-playing father) look bad. Dude is preparing for his first game with Sul Ross State since 1970. He was kicked off the team prior to the '71 season because he got into a fight with a teammate, and now he's returning to action. Only difference between him and the man holding the record for oldest college football player ever, Flynt is expected to be a regular contributer.
So just who is this star-studded old man? Turns out he was the strength and conditioning coach for Nebraska, Oregon, and Texas A&M, so dude probably knows a thing or two about staying in shape. Not to mention, he was the inventor of the ever-popular Powerbase. Whatever that is. As they said in Necessary Roughness, let's just hope he leaves a couple of brain cells for class. I'll try to hunt down the recap and boxscore of his first game back. Stand by your computer for updates throughout the day.
UPDATE: Sul Ross St. got slaughtered 55-14.