Ty Willingham: Coaches Need More Time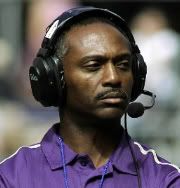 There's been a common theme lately here at LBS, and it involves the profession of college football head coaches. We had Houston Nutt agree that it was the hardest time in coaching, considering so many coaches with proven track records have been getting fired. While I believe Tyrone Willingham got a raw deal at Notre Dame, he certainly got what he deserved after doing very little with the Washington program. His main issue of contention with coaches is time. As in, coaches aren't getting enough time to develop programs:
"It's not just my issue, it's a college football issue — we have to give coaches a chance to do their job. Because now we have coaches … especially some of the minority coaches … they are losing their jobs after 21/2 years. That's not right.
…
Maybe Notre Dame got it right [retaining Weis]. But we have to change that mentality with [black] coaches. Nick Saban is making it work at Alabama in his second season. But in the majority of cases, it's going to take longer to get things right and up to speed.
He's not the first coach to complain about coaches not having enough time to prove themselves. I think five years is really the optimal amount for any head coach at any level, with four a passable length of time. Thing is, winning with lesser players, keeping the players competing at a high level, not getting blown out, all are signs of a coach doing a good job. There are ways to tell if a coach has it or doesn't early on, so I can understand some coaches getting axed quickly. Whoever the coach is at Washington State for instance, certainly deserves to get fired after only one season — he clearly isn't qualified to lead a team. But for most other situations, unless you can get yourself a Spurrier or a Saban, you really should give your head coach a chance to prove himself. Maybe Notre Dame did get it right giving Weis another shot, as he said. And if they got it wrong, at least we all get to enjoy another putrid season for the Fighting Irish!