Brandon Marshall Slips on McDonald's Bag, Arm Goes Through TV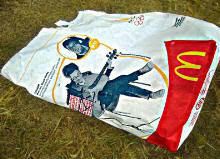 This one could very well be so improbable that it might be true. Not even George Costanza on his best day could have come up with this excuse by Broncos receiver Brandon Marshall for needing stitches on his elbow. Honestly, Raul Ibanez hurting his neck sleeping and Aaron Rowand hurting his arm playing tag thinks this is a stretch. From Brandon Marshall, on how he injured his arm:
In the most bizarre off-season injury to date, Broncos wide receiver Brandon Marshall said he slipped on a McDonalds bag and wound up with his arm wrapped in a cast.

Marshall said he was at the Westgate Lakes Resort in Orlando, Fla. on Saturday and slipped and fell on a McDonald's wrapper. When he slipped, he said he stuck out his hand to brace his fall and it went through a TV entertainment center.
Seriously, we're supposed to believe that happened? Where did he come up with that one? Why not just come out and say you were hammered with buddies, one broke a beer bottle, and you cut your arm on it. Or that you cut it hopping a fence — you know, something believable. Or maybe, just maybe, it's so wild and wacky that it has to be true. I doubt it, but it is a possibility. FanIQ's gonna have to add this one to the list.

UPDATE: The bag KO'd Marshall for at-least three months.