Bengals WR Chris Henry in Trouble, Again, Sun Still Sets in the West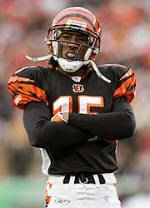 This is getting sickening but must be addressed. As passed along by commenter JS, Bengals WR Chris Henry is having legal problems, again (although this time they are on a considerably minor scale compared to some of his past issues). Chris Henry could be spending time in a Kentucky jail for three traffic violations.
Henry was ticketed March 21 in Cincinnati's Over-the-Rhine for driving on a suspended license, not wearing a seat belt and not using a turn signal.

Chief prosecutor Ken Easterling of the Kenton County Attorney's Office said Tuesday a conviction on those charges would be enough to revoke Henry's Kenton County probation and send him back to jail to serve the rest of his 90-day sentence.
These chargers are nothing compared to what else is on Henry's rapsheet, but once you establish a pattern of behavior, the ninth strike is sometimes enough to do you in for good.
Or so says commish Roger Goodell
Goodell said some disciplinary hearings already are scheduled for next week in New York. Henry and his former West Virginia college teammate, Tennessee Titans cornerback Adam "Pacman" Jones, are believed to be among the players who will appear.
What is it with these West Virginia cooks?
I'm not even going to bother listing the Bengals problems over the past year, I'll let you read about em here if you choose.
I also don't have the energy to explain why this sort of behavior has made me embarrassed and ashamed to be a Bengals fan. You can read my explanation at my old blog on foxsports.com here. In case you were wondering, I've stayed true to my word. I couldn't tell you the last time I wore any of the Bengals shirts or jerseys that I own — and that my friends, is truly disappointing.