Carson Palmer Wants Changes in Cincy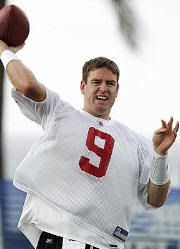 Thank goodness. As a long suffering fan, it's nice to hear a player share your thoughts. Carson Palmer is not one to shy away from an interview, nor a difficult question. He speaks his mind and does not back down from what he feels. And recently he talked to the Bengals official site and expressed his thoughts on the team:
Asked if he thought the same coaching staff could turn it from being stale, Palmer said, "I don't think so," but he also said he doesn't know if Lewis will make those changes.
…
"We need a lot of changes," said Palmer, who did respond to a question about discipline, a subject he has often discussed.

"When you look at the most successful teams in this league, they're very disciplined," Palmer said. "And we're obviously not one of the most successful teams. I don't think we're the most disciplined team and that's definitely an area we need to improve on."
Unfortunately, the changes to which Palmer was referring did not include Marvin Lewis. Lewis turned around the franchise but he did it by selling the team's soul. He went in for a Dennis Erickson-like fix and it wound up biting him in the ass. I've called Marvin out as an enabler in the past and would like to see him gone. Regardless of whether or not that happens, it's great to hear Carson unsatisfied with the way the the season went and harping on the issue of discipline. After all, it becomes hard to win (not to mention embarrassing) when your top weapons can't even make it on the field because of suspensions for off-field incidents.