Jets Flip Coin to Determine Quarterback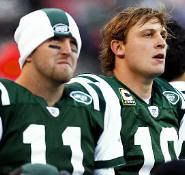 That's how you know you're in bad shape. In a perfect world, your starting quarterback is Tom Brady or Peyton Manning and you don't have to worry about any competitions. But the reality for most NFL teams is that they're trying to improve at the position and find the right man for the job. The New York Jets are no different, so when they opened up organized team activities, they flipped a coin to determine the starter.
"Chad called heads and I thought I had a good chance because I'm a guy that generally calls tails," Kellen Clemens said Thursday after the Jets' third OTA session, but first open to the media. "It was heads all the way."
So Chad got first cracks at the job, I guess. We'll see how long he hangs onto it. Pennington got yanked last year because of his struggles, and Kellen Clemens didn't do a whole lot better. At least the team won three games with Clemens at QB — they only one once with Pennington at the helm — against the lowly 1-15 Dolphins. I guess the team is screwed either way, but with Pennington, they're proper screwed. I'm guessing Clemens will emerge. And Mangini reportedly blew the whistle on coordinator Brian Schottenheimer for rigging the coin flip. Just what I heard.