Stanley Cup Goes to Pink's Hot Dog
We all know how the Stanley Cup goes to each player of the Cup-winning team for a day. Well, the Ducks won it, and low-and-behold, it appeared on the front page of the LA Times on Thursday. Chilling at Pink's Hot Dog in Hollywood. How tight is that?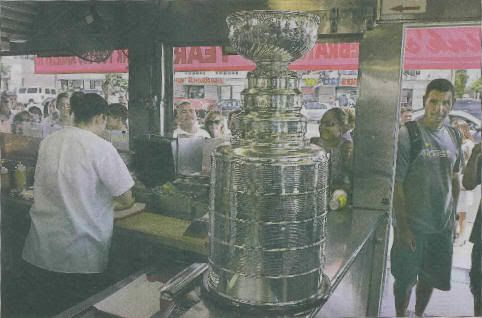 The Pink's website boasts it's a family owned hot dog stand since 1939. It's an LA landmark and it produces some of the greatest dogs you can ever taste — definitely some of the best I've ever had. And check it, in case you've never been there, they have tons of celebrity photos on the wall there, and they even posted them online. Check em out. So I'm not really sure what I would do if I had the cup for a day, but I think it's pretty sweet that someone took it to Pink's.