How is Danica Patrick Hitting Pit Crew Member News?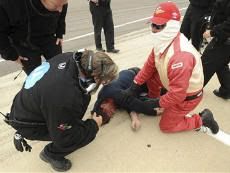 I was scratching my head trying to figure this one out on Friday afternoon. All of a sudden this story about Danica Patrick hitting an opposing pit crew member during Indy 500 practice started surging up the headline chart on all the major sports sites. ESPN, FOX, Sporting News, SI, pretty much all of them had this story way up at the top as being a "newsworthy" item. I really would like someone to explain to me why that is the case. I'll give you my reasoning why it's not.
First of all, it happened in practice, not a race — it has zero impact on her place in the standings or the actual race. Secondly, Danica herself didn't get hurt. No disrespect to Mr. No-Name pit crew worker, but nobody gives a rats ass what happened to him, so long as he doesn't keel over and kick the bucket. Lastly, this is by no means a representation of Danica's lack of skill as a driver; she operates finely tuned automobiles at ridiculously high speeds for a living — she's a better driver than any of us. She also proved that she can compete on this level winning her first race a few weeks ago. And to compound this fact, the crew member was where he wasn't supposed to be, so it was on him.
Again, I'm still uncertain as to why this story has garnered any coverage, unless it's the media's way at trying to strike back at Danica Patrick and make her seem incompetent. Maybe that's it. But let me ask you this: if Albert Pujols hit the Brewers bench coach with a ball in batting practice, would that make headlines? Exactly. Neither should this.