Kornheiser: NBC and FOX in Bed With the NFL?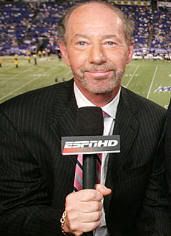 Giving him the benefit of the doubt, you would say the guy was just kidding around. The way I see it though, there is some underlying truth to almost all things said, especially jokes made. That's why I feel Tony Kornheiser was genuinely irked that ESPN has what he feels are inferior games on Monday Night compared to what NBC has tonight, and what FOX has on Sunday afternoon. In the toss up feature of PTI on Wednesday, the question was asked: "Better first week game, Saints/Colts, or Bears/Chargers?" Here was Kornheiser's response (said with a sarcastic tone):
"Wow, wouldn't those be great on Monday Night? Who do you have to sleep with to get a game like that on Monday Night?"
After TK and LeBatard broke down the games and analyzed the question, LeBatard shot, "You'd rather see [the Chargers/Bears] on Monday Night Football?" Kornheiser's response, "I'd like to call it." Being fair and honest here, Kornheiser's response had a genuine feel — I literally did a double take when I heard his comments. So is there something to this? NBC clearly has top priority with games, but then is FOX second over ESPN? Why wouldn't ESPN get prime pickins' considering they're on Monday Night Football? Or does it even matter what game is on Monday Night considering it's the only game in town? It seems like their could be some legitimacy to TK's gripe.