Roger Clemens and a 15-Year-Old?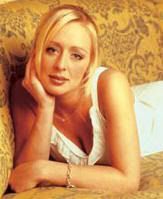 OK, this is just entirely too creepy. The New York Daily News (of course) has a story suggesting that Roger Clemens had a 10-year relationship with country singer Mindy McCready that began when she was 15-years-old. Dude, Rocket, I was a sucker for Hayden Panettiere for a while there, but damn, at least she was like 17 or something. 15 though? That's like Jesus from Lebowski style right there. There's no way to be certain about the story, but the Daily News apparently has several sources confirming the romance.
One other aspect to this story, besides the obvious disgusting nature of a grown man getting down with a 15-year-old, is that it could sully Clemens' argument that he is a solid character, family man. You know he's trying to sue McNamee for defamation or something, and when it comes to he-said/she-said stuff, this could hurt his image and character. Some of the reports here are just simply weird. Clemens' wife Debbie says she was aware of the relationship, as Roger says it was strictly a family friends thing. But I ask you: what kind of grown man has a family friend relationship with a young, good-looking teenage woman trying to become a famous singer? Not too many that I know of. This is exactly why agents partition "discretionary accounts" for their clients — so there are no traces of the money going to these side broads.

UPDATE: Per Spin in the comments, McCready admits it's all true.