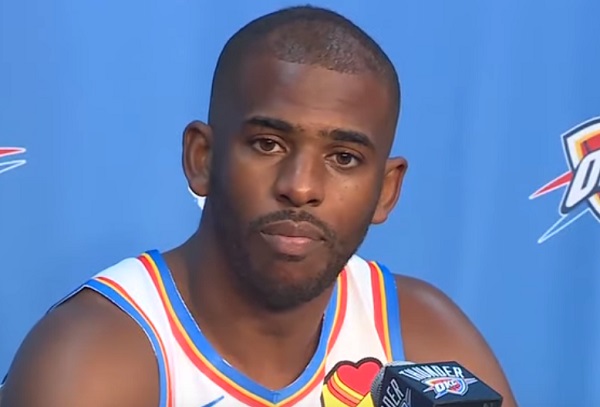 Chris Paul broke out a sick move during Thursday night's 113-92 win over the Houston Rockets, and his buddy LeBron James loved it.
During the fourth quarter of the game, CP3 decided to defeat Isaiah Hartenstein by going through him. He nutmegged Hartenstein and finished off the sweet move with a layup. The pretty display will leave you impressed:
Chris Paul nutmegs Isaiah Hartenstein, with the replays pic.twitter.com/6jtiAUHUAK

— CJ Fogler (@cjzero) January 10, 2020
LeBron, whose Los Angeles Lakers had the night off, was watching the game and loved the move.
CP stop it!!!!!

— LeBron James (@KingJames) January 10, 2020
CP3 may be 34, but he is showing he still can play at a high level and lead a successful team. He has OKC 22-16 so far, which is one of the most surprising records of the season.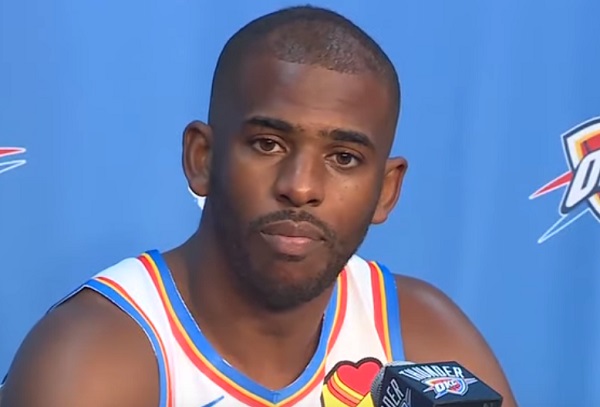 Chris Paul pulled off a savvy move that helped his Oklahoma City Thunder beat the Minnesota Timberwolves on Friday night.
The Thunder were down 121-119 with just over a second left in the game. Karl-Anthony Towns was at the free throw line and had missed his first free throw attempt. Jordan Bell then entered the game for Shabazz Napier, but Paul noticed Bell's jersey was untucked. CP3 yelled that out and referee Scott Foster decided to call a delay of game on Minnesota.
You can hear Chris Paul yell "His jersey untucked, that's a delay of game" just before OKC forced OT (h/t @WorldWideWob) pic.twitter.com/vLVoUccoWL

— Dime (@DimeUPROXX) December 7, 2019
The delay of game gave the Thunder a technical free throw, which Danilo Gallinari made to make the score 121-120. Towns tried to miss the second free throw to force Oklahoma City to have a long shot if any on the rebound, but he made it instead.
Steven Adams then threw a long pass to Dennis Schroder, who made a tough shot to tie the game as time expired.
STEVEN ADAMS TO DENNIS SCHRODER. WHAT A PLAY. pic.twitter.com/SQrbR2cfBw

— Legion Hoops (@LegionHoops) December 7, 2019
The Thunder ended up winning 139-127 in overtime.
T-Wolves coach Ryan Saunders said the technical foul at the end of the fourth quarter was for delay of game on Jordan Bell. Bell was attempting to enter the game with his jersey untucked. It was the second delay of game warning on the T-Wolves in the game. Proved to be crucial.

— Erik Horne (@ErikHorneOK) December 7, 2019
Credit to Chris Paul for his veteran smarts on that move, and to his teammates for the incredible last-second play. And what a blown game for Minnesota. CP3 is like a basketball Bill Belichick; the guy knows all the rules and tricks to gain an edge.
Chris Paul is stuck on a non-contending team in the Oklahoma City Thunder, but he may have a greener destination in mind for the future.
In an appearance this week on ESPN's "The Woj Pod," Ryen Russillo of The Ringer said that the nine-time All-Star wanted to be traded to the Milwaukee Bucks this summer.
"I had heard he wanted to go to Milwaukee," said Russillo, per RealGM. "Of course you'd want to go play with Giannis [Antetokounmpo]."
The idea of the 34-year-old Paul landing with the Bucks right now was always a stretch — they are already set with Antetokounmpo, George Hill, and Eric Bledsoe as their primary ball-handlers. The $80 million that Paul is still owed over the next two seasons also eliminates any possibility of a buyout.
Nonetheless, the Bucks' title window figures to be lengthy as Antetokounmpo is not even 25 yet. Paul also used to be teammates with Bledsoe back in their LA Clippers days. Thus, you can't rule Milwaukee out as a possible destination further down the road, especially since they would present an opportunity for Paul to stick it to a former teammate.
The Oklahoma City Thunder have had no luck drumming up trade interest in Chris Paul since they acquired the veteran point guard as part of the Russell Westbrook deal, but at least one team is keeping close tabs on CP3 heading into next season.
The Miami Heat have interest in trading for Paul, Shams Charania of The Athletic reports. Paul and the Heat have mutual interest and Miami previously discussed a trade with the Thunder, but no deal was reached. Charania notes that the Heat will likely circle back after the start of the season if they still decide they want to pursue Paul.
It never made sense for the rebuilding Thunder to keep Paul, but they are reportedly doing everything they can to convince teams they are happy to keep him on the roster to mentor their young players. Few people are going to believe that after OKC traded both Westbrook and Paul George. Taking on Paul's contract was simply the only way the Thunder could make the money work to send Westbrook to the Houston Rockets in exchange for draft picks.
Paul is still capable of playing at a high level, but he turned 34 in May and has battled injuries in recent seasons. There was talk that he was forced out of Houston for non-basketball reasons, though it was likely a combination of factors.
The Oklahoma City Thunder may have never intended to keep Chris Paul when they acquired him as part of the deal that sent Russell Westbrook to the Houston Rockets, but they are doing everything they can to convince rival teams that is not the way they view it.
Team executives have found that the Thunder are trying to create the impression that they want to keep Paul to help mentor their younger players, ESPN's Brian Windhorst said on "The Jump" this week. However, they are privately hoping something will change this offseason that will inspire a team to make an offer for the veteran point guard.
"Here's what executives expect to happen: They expect the Thunder to put out a message that, 'We're not looking to trade Chris Paul. We want him here. We want him as part of our unit with our young guys,'" Windhorst said. "They don't want anybody to think they're panicked trying to trade him. They want to hope that somebody has something happen where they need Chris Paul."
The Thunder have traded Westbrook and Paul George and entered a complete rebuilding phase, so no one is going to believe they want to keep Paul. Taking on his contract was the only way they were able to send Westbrook to Houston. There have been some indications that Paul will begin the season in OKC, but that won't be due to a lack of effort to trade him.
While Paul is still capable of playing at a high level, he has battled injuries in recent years and turned 34 in May. The Thunder can only hope a contending team gets desperate at some point between now and next season's trade deadline.
Chris Paul sent a farewell note to Houston on Instagram Wednesday in which he also shared his excitement about playing for his new team.
Paul was traded by the Rockets to the Oklahoma City Thunder on July 11. CP3 has kept quiet since then, but nearly two weeks later, he finally sent his farewell.
"So thankful to the city of Houston for all your generosity and kindness toward my family and me these past few years! I'm truly blessed to have amazing fans who continue to support me throughout my career. I'm excited to be joining @okcthunder next season and for this new opportunity to compete alongside my Thunder teammates. I started my NBA career playing in Oklahoma City with the New Orleans Hornets and I look forward to returning!" Paul wrote.
Paul joined the NBA in 2005 and spent his first two seasons in Oklahoma City because his Hornets were displaced by Hurricane Katrina. That is what will make this a return for him.
Paul probably took a few weeks before sharing this note on Instagram because his future was in question following the trade to Oklahoma City. The Thunder were looking to trade him, but a combination of Paul's salary and the Thunder's unwillingness to include draft assets in a trade resulted in him being retained for now.
The James Harden and Chris Paul partnership may be over, but Harden still wanted to set the record straight about their relationship.
Harden said Saturday that talk was a "rift" and that he has "nothing negative to say" about Paul after he was traded to the Oklahoma City Thunder.
.@JHarden13 on Chris Paul and all the media chatter the last few weeks, said it was all " false talk. Chris was great with him while he was here, great leader. Guys have disagreements on the court all the time. I've got nothing negative to say about Chris." @KPRC2

— Adam Wexler (@KPRC2AdamW) July 20, 2019
Despite Harden's comments, it's pretty clear he and Paul didn't always completely see eye-to-eye. This had been pushed aside by Houston as normal behavior between two stars, but Harden probably doesn't mind the fact that he'll instead be playing alongside Russell Westbrook next season.
pixel2