Maria Sharapova, a James Bond Girl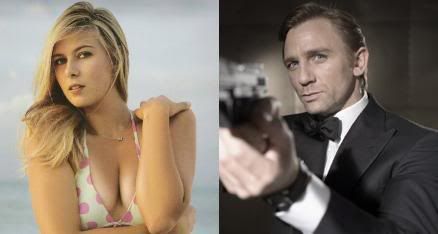 I may have been a tad bit harsh on little old Maria around the time of the French Open when she was busy getting crushed by the likes of Ana Ivanovic. Well, I'm happy to say that Maria and I can now make up. As reader Nick points out to me, Maria Sharapova's dream is to be a James Bond girl. That is definitely something I can get down with.
The 6ft 2in Russian blonde is an ardent fan of 007 films and thinks that she would be perfect partner to current Bond Daniel Craig.

"But her biggest dream is to be a Bond girl. She's always talking about it," a friend was quoted as saying. "Maria loves the James Bond films. And with her Russian blood, she thinks she would be perfect," the friend added. And her ambition to become a Bond girl comes from her favourite hobby, which is spying.
I don't know about the whole Daniel Craig thing, I'm not much of a fan. But I'll let her spy on me any day. You know what, I could actually see her in this role somewhere down the line. That would be flippin' sweet.