Baseball Preview: Philadelphia Phillies
Last year's record and finish are in parenthesis with projected improvement/decline indicated by plus or minus.

Philadelphia Phillies (85-77, 2nd in the NL East) +1 game

Get Crunked: After leading the majors in home runs last year, Ryan Howard has proven that he has some seriously sick power and that he's one of the top power hitters in the big leagues. Chase Utley is by far the best second baseman in the game. He has the entire package — a complete five-tool player. Jimmy Rollins had the finest year of his career in '06, and he's continuously improving as a player, cutting down his strikeouts at the plate, raising his average and power each season. Brett Myers has become a top-line starter, and Cole Hamels probably isn't far behind from over-taking the NL East with force. Flash Gordon still has it going on in the pen.
Party Foul: Aaron Rowand needs to shake off some of his jitters from the chance meeting with the fence in center to become the productive hitter he was in Chicago, and stay healthy the whole season. Pat Burrell still hasn't lived up to his potential — I still believe one day he'll hit 45 homers when he puts it all together, but when will that day come? Shane Victorino is a weak Rule 5 player in RF. Adam Eaton's injury history concerns me, as does Freddy Garcia's current arm injury.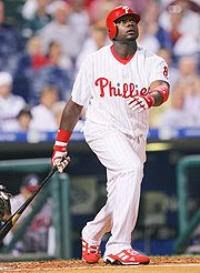 Ryan Howard led the majors with 58 homers last year,
will he get intentionally walked this year?
What'd my GM do: He signed Adam Eaton to a pretty big free agent deal, $24.5 million over three years, for a guy who hasn't put together a full season since '04, and is coming off reconstructive surgery. Seems to me that it was a move out of desperation and really doesn't have much upside. Rod Barajas was signed as a free agent catcher from Texas, probably an adequate replacement for the aging Mike Lieberthal. He traded one time hot prospect Gavin Floyd for Freddy Garcia to bolster the rotation with someone proven, but Freddy's already hurt. He also signed Jamie Moyer to come back for another two years, at which point Jamie will be nearly 45, but heck, the guy can still pitch.
Lay it on me Straight: Last year they rode Ryan Howard to a near playoff birth. This year they probably won't have to do that in order to come close to the playoffs, but they'll need some serious support from Pat Burrell and Aaron Rowand behind Howard in the lineup if they want to contend for the division. The lineup should be fine, but the ultimate finish of this team depends upon the rotation staying healthy and performing. I think at least two of these guys won't be able to make it through the year, keeping the Phillies from making the playoffs.
So where my boys gonna finish right now: They'll be in the wild card hunt, closer to the Braves than the Mets in my estimation. They really need the starting pitching to step up and be difference makers.
Can we be better than that: I just don't see it happening. It would be too much of a "perfect world" scenario for this team to win the division, too many injury concerns in the rotation, and not enough protection for Howard who will get the Albert Pujols treatment.