Baseball Preview: Toronto Blue Jays
Last year's record and finish are in parenthesis with projected improvement/decline indicated by plus or minus.

Toronto Blue Jays (87-75, 2nd in the AL East) -2 games

Get Crunked: You got Vernon Wells who's a bonafide stud. The dude can slug, run, play some good defense, and he's one of the best all-around outfielders in the game. Frank Thomas may be old, but he can still crush it, and he has the ability to carry a team (like he did with Oakland last year). Troy Glaus is still one of the top power hitters in the league. Alex Rios is an emerging star in the outfield, and was off to a great start until injuries slowed him down last year. Roy Halladay is second only to Johan Santana as far as starters go in the AL. And closer BJ Ryan belongs in every discussion about the top relievers in baseball. (damn, that's a lot to get you crunked!)
Party Foul: After Ryan, the bullpen is relatively weak (I'm told Brandon League is pretty good, but he's already hurt). After Halladay and Burnett, there's a huge drop-off in the rotation, but I think Tomo Ohka has some value. The team is weaker at catcher with the departure of Bengie Molina, and they're also weak in the middle infield, very weak.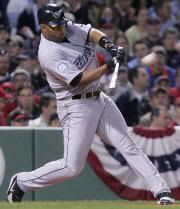 Vernon Wells is one of the top outfielders in the game

What'd my GM do: He locked up Vernon Wells for a long time. Very long time. That was an excellent sign to the fans that the Jays are committed to winning. The long-term deal may have been pricey, but I think it was fair given the market. Ricciardi locked up Lyle Overbay as well, who isn't a slugger at first base, but well worth the $6 mil/year tag. He lost Bengie Molina at catcher, and then the whole Rod Barajas deal fell through, leaving him stuck with Gregg Zaun. He signed The Big Hurt to a two-year deal, which wasn't bad considering Thomas should have two productive years left in him. Tomo Ohka and John Thomson were brought in as low-budget starters, pretty low-risk, low-reward. They lost Ted Lilly to the Cubs, but for $40 million, I'll take Ohka instead. Justin Speier and Frank Catalanotto each are gone, but for the multi-year contracts they received, it's not a bad loss.
Lay it on me Straight: It's a damn fine team stuck in the worst possible situation — competing with the Yanks and Red Sox every year. Unfortunately there's nothing they can do about that, unless there's realignment. But you know what, who says they can't beat the big boys? People forget, they finished ahead of Boston last year, so it can be done.
So where my boys gonna finish right now: Right around the same place as last year. I think they're a tiny bit better, the problem is the Red Sox are a lot better, and the Yanks are about as good as last year, so there isn't a whole lot of room for growth.
Can we be better than that: No. The pitching isn't good enough. Matter of fact, the team can only be worse than last year the way I see it.