David Stern Is Considering NBA Franchises in Europe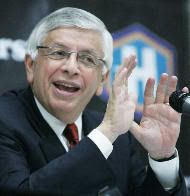 Let's see, the NHL hit up Europe, the NFL went to London and wants to go to Germany, baseball's venturing to China, and now the NBA is considering franchises in Europe. Per Ian Thomsen at SI (to whom Stern likely dropped the test balloon):
Commissioner David Stern is considering new plans to create five full-fledged NBA franchises in Europe over the next decade … The current idea would be to create five new teams in major markets to form a "European" division within the NBA. The teams would play the full 82-game schedule and compete for the NBA championship. But the proposal is new and many factors will influence the eventual outcome, the league source said.
Well, we all know who would volunteer to play point guard for one of those European franchises. I'm actually starting to come around slightly on this idea. I know it's not Europe, but basketball and the NBA seemed to be popular in Australia, and is no doubt on the rise in Asia. Maybe the NBA could grow enough in Europe (though it would never be a top sport in terms of popularity). Or baybe that's just because I'm looking forward to getting an assignment to cover the team in Amsterdam. Just imagine: in 15 years, the NBA will be like Star Wars with an Asian division, South American division, European division, and the American divisions. Then the team that wins it all would be able to legitimately call itself the World Champion. I like the sound of that.