NBA All-Stars Should Pick Sides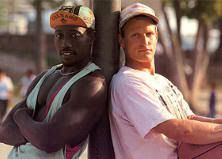 If you're a really dedicated LBS squire, you might remember that exactly a year ago I linked to and reproduced Peter Schrager's idea for how to improve the NBA All-Star game. I thought it was brilliant; his suggestion was to have a four-team tournament — one squad would be Team Europe, Team World, Team High School babies, and Team College Bred. That would be a fantastic idea and certainly liven up the weekend. Another great idea was passed along to me from a friend on Tuesday night. He said Michael Wilbon posted the idea that day in his column for how to improve/fix the All-Star game. Ironically the column has come over scrutiny at The Sporting Blog because Chris Mottram says it's possible Wilbon bit the idea from Shoals at TSB. Anyway, here's the gist of the idea (from Wilbon):
The fans would vote for a total of 30 all-stars, and the two biggest vote-getters would pick their own teams. Garnett, the No. 1 vote-getter, would get the first pick. James, the No. 2 vote-getter, would get the second pick … And back and forth they'd go, like on the playground. So if KG picked a guy to get him the ball, say Nash, Kobe might pick a big man, say Howard. Think about the buzz that would create, about the alliance and what we'd find out about what players really think about the other all-stars and who they really valued?
I'm all about this idea. Problem is it would all be downhill after the teams were picked. If I had my choice, I'd go with Schrager's idea. Unfortunately it's not exactly realistic. No matter how you look at it, and no matter what your suggestion is, the idea is clear — the NBA needs to revamp its All-Star game. Until then it's all about the three-point competition, and races run by Charles Barkley against Dick Bavetta.