Is Anyone in a Worse Situation Than Tracy McGrady?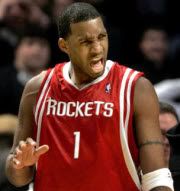 The Rockets may have lost Game 2 of their first round series with the Blazers on Tuesday night, but they're still tied 1-1 in the best of seven and best of all, heading home for two straight games. Given the way they played in Game 1 and that it took 42 from Brandon Roy for Portland to win on Tuesday, it's quite conceivable that the Rockets win the series and get to the second round of the playoffs for the first time since '96-'97. In four of the past five seasons, Houston's been eliminated in the first round despite having three 50-win seasons. The wise fan will point out that the team was talented but had the misfortune of playing other very good teams in the Western Conference. Sure, they did lose to the Lakers one year (the year the Lakers lost to the Pistons in the finals), but Houston certainly could have beaten the Jazz either of the years they lost to them in the first round.
Between his years with the Rockets and his days with the Magic and Raptors before that, it's no secret that Tracy McGrady's never advanced past the first round of the playoffs in his career. Seven playoff berths, seven first round exits. As I outlined above, the Rockets have an excellent chance to advance to the second round, but this time, it's sans T-Mac. McGrady's knee injury has him on the sidelines and has the team actually playing better without him. T-Mac realizes what this all means and he's anxious to be back out there:
I'm foaming out the mouth right now, I'm tellin' ya. I'm foaming right now. I've been hurting for two years but I'm on it right now, I'm grinding. And, you know, I'm just ready. I'm gonna get there. All's I need for my knee to respond like I want to and the rest gonna take care of itself. I proved I can play in this league, I just gotta stay healthy and that's what I'm pushing to do."
As I said, will anyone take a bigger hit to their ego than T-Mac? If you're him, you have to be rooting for your team to do well because you want to see your teammates be successful. At the same time, I'm sure he realizes how this can wind up tarnishing his legacy. It's almost like Allen Iverson in Detroit — despite being a playmaker, scorer, and former MVP, Iverson made the Pistons worse. Much worse. Unfortunately the same can be said about McGrady with the Rockets. How much does this suck for him?