SuperSonics Will Be Run-and-Gun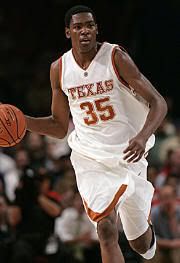 Remember three years ago when the Sonics won the division with a 52-30 record, going on to lose to the Spurs in the second round of the playoffs? Remember what type of team that was? It was the ultimate run-and-gun offense — with less emphasis on the run, and more emphasis on the gun. At most points in the game, they would have four men on the floor who could shoot the 3 ball — Ray Allen, Rashard Lewis, Luke Ridnour, and Vlad Radmonivic — and then one big with Jerome James or Reggie Evans. Picture something similar when you add Kevin Durant to the mix.
Now, you're looking at a Sonics lineup of Allen, Lewis (for how long?), Ridnour, Durant, and then Chris Wilcox/Nick Collison. Previously I said that the Trail Blazers would be an absolute nightmare to match-up with. The Sonics will be a tough match-up, for an inverse reason. They will be an outside shooting group of small guys. With that lethal combination, they'll have a chance to beat any team on the floor. I don't see any championships, but it will be fun to watch.
(and I'm fully aware I'm opening myself up to policing by posting a Kevin Durant picture here)