Roy Jones Jr. Fighting on MMA and Boxing March Badness Card, Will it Work?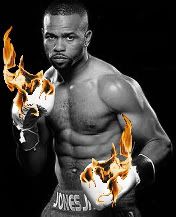 My buddy HG at You Been Blinded came up with this idea a while ago and I thought it was genius: why not satisfy both crowds of fight fans with a joint MMA and boxing card? Figuring out how to work a steel cage or octagon and boxing ring in the same venue is kind of tricky, but I think it would go over well if you could swing it. Well apparently Roy Jones Jr. thought outside the box and came up with a good way to pitch his upcoming fight:
The boxing-MMA card — called "March Badness" — takes place Saturday, March, 21. Jones Jr. will fight his "homecoming" light heavyweight bout against the always tough Omar Sheika. Headlining the MMA portion of the card will be Seth Petruzelli, the man responsible for knocking out Kimbo Slice. He takes on Doug Marshall. According to a press release, three-time NCAA wrestling champion and Wrestlemania star Bob Lashley will fight in an MMA bout.
The star power for this fight is somewhat light but the idea behind it is great. I'm really intrigued to see how this works. And good to see that the beating Roy took from Calzaghe hasn't cost him his creative brain cells — he needs them to try and get people to buy one of his fights now that he's over the hill.