LBS > Jay Bilas, Cornell Fans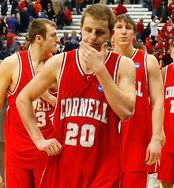 When Kentucky and Cornell met in the East Region semifinals on Thursday night, much more was at stake than a position in the Elite Eight. I'm not even talking about coaching jobs, playing careers, or fan excitement. Nope. I'm talking about credibility, maddening predictions, and domain names. I'm talking about Jay Bilas' prediction that Cornell would reach the Elite Eight coming up short.
Two weeks ago when the brackets were revealed on Selection Sunday, I slammed Bilas for his absurd prediction that Cornell would advance to the Elite Eight. While Cornell surprised me by beating Wisconsin and advancing to the Sweet Sixteen, they ultimately came up way short of his proclamation, butting their collective heads against the impenetrable roadblock that is Kentucky. Had Cornell won and advanced to the Elite Eight, I promised to change the site's name to Jay Bilas Sports for a week and apologize to the man personally for my sharp criticism. Think I was worried? I didn't even break a sweat as Kentucky hammered Cornell 62-45, holding the Little Magenta to 33% shooting and only 24% on three pointers. Kentucky made Cornell look like a silly, scrappy, unathletic opponent when they went on a 30-6 run to close the first half. Even though the 17-point margin is satisfying enough for me to puff my chest out, it would have been much worse if Cornell hadn't resorted to the hack-a-DeMarcus strategy (a smart plan albeit).
In case you weren't keeping track of this story (believe me, I know you weren't), my Bilas post started getting peppered with comments from Cornell fans, Bilas supporters, and LBS haters, all laughing at me and telling me I would have to get a new website name ready. Well, to all of you, I would just like to say kiss my big fat brown bag. This is why I went off on Bilas in the first place. Saying Cornell would reach the Sweet Sixteen is one thing. Telling me they're going to the Elite Eight by way of Kentucky is a complete other notion. The Little Magenta was good enough to stun us with wins over Temple and Wisconsin. They were completely over-matched against Kentucky. Any basketball fan or analyst knew that was the case. That was the difference between the sane and the insane.