Matt Jones Continues to Impress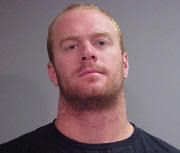 Matt Jones is working his way up to Pacman Jones status here at LBS. Hopefully he's got enough in him to keep this fire fueled for a few more years. First the Jags bust of a wide receiver got caught chopping lines of cocaine in his car along with some friends in Fayetteville last year. It bothered me that he was able to escape penalty under the league's personal conduct policy until the final weeks of the season, at which point the Jags were already eliminated from playoff contention. Anyway, fast forward to the present day where Jones was busted for drinking alcohol (a few beers on a golf course with friends), which apparently is a violation of his drug program for the coke arrest. Best part is the way the judge laid down the law:
[Judge Gunn] said, "why in the world would you drink beer on the golf course when your future's at stake? And let me tell you why your future's at stake. Everybody's is, but your playing field time is smaller than my career. I could practice law for 50 years, hopefully, but you can't play football for 50 years. You have more to lose and you have to respect that. I have not seen you be anything but respectful in this program, and man! It's you, it's not us! You either work it or you don't. You didn't. You've got a choice. Stick around and find out what Matt's going to say. But you're going to go to jail for a week, Matt, or you're going to go to residential treatment for 6 weeks, and you know what? You may need both! You've been 100% on everything the NFL's asked, and everything that we've asked. Except this; court's in recess!"
That judge made Matt Jones her bitch! She owned him in court, no doubt. According to them, he's on $150,000 bail, but could still wind up missing some offseason activities if he's in a residential treatment program. Between Jones, Reggie Williams (now a free agent), and Jerry Porter's million bucks a catch, the Jags need a new receiver. Badly.