Michelle Wie Is Forgetful, Regretful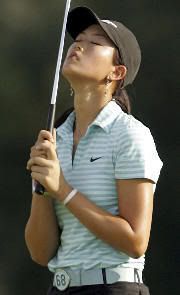 Just when it looked like Michelle Wie might actually do something productive on the LPGA tour, she goes out and flubs it all up with a bone-headed move. Ms. Wie last graced the pages here at LBS because of the news that she was dating former Stanford basketball star Robin Lopez. Prior to that, it was for withdrawing from an event and then later pulling out of one because of a wrist injury. In addition to withdrawing and pulling out of tournaments, Wie has now found a way to get disqualified, too.
Wie told reporters that after she finished her round Friday, she left the tent just above the ninth green where players sign their scorecards. She was chased down by volunteers working in the tent, who pointed out she hadn't signed.

Wie returned to the tent and signed the card, and "I thought it would be OK," she said.

But Wie, according to Witters, had already walked outside the roped-off area around the tent. At that point, the mistake was final, Witters said.

Witters said she and other tour officials didn't learn about the mistake from volunteers until well after Wie teed off Saturday morning, so they let her finish the round.
And for such a dumb move, she was disqualified. Too bad since she was second after three rounds and really had a chance to do something huge — like actually win a tournament. Oh man, what could have been.