First Day Upsets Prove the Stanley Cup Is Truly Up for Grabs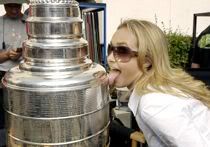 On Wednesday night the NHL playoffs got underway (I hope you've got your playoff beard started). It's always exciting to see playoff hockey action and it's even more exciting when the upsets start and the underdogs begin winning games. Ah yes, the toothless grins were shining bright last night, ladies and gentlemen, and don't expect that to stop anytime soon.
Let's start with the biggest upset of the evening — the eighth seeded Colorado Avalanche knocking off the top-seeded San Jose Sharks. It appeared that these two teams were heading for overtime when a shot by Chris Stewart of Colorado bounced off the skates of Sharks captain Rob Blake and into the goal to give the the Avalanche a 2-1 victory. Next, the reigning champs and Eastern Conference's four seed, the Pittsburgh Penguins, were looking to prove that they could repeat as champs, starting off by beating the five seed Ottawa Senators. Well, it didn't quite happen that way as the Penguins feel to the Sens 5-4.
I don't mean to recap the nights events for you — if you want to know all the scores knock yourself out. My point is that the Avalanche and Senators were not favored to go very far in this postseason but all it takes is one upset to build momentum.  There are a lot of great teams in the playoffs this year and as of right now, it's hard to say who will be hoisting that cup in a few weeks. If pressed for a prediction, I'll go with the Blackhawks not just because I'm from Chicago, but because they were the underdogs last year and I don't think they will let it get away again this year. This is a young team that's hungry to bring the cup back to Chicago.