Jose Canseco Knocked Out in Fight with Vai Sikahema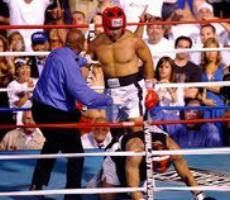 OK, so I know I was clamoring for a Jose Canseco/Curt Schilling boxing match, but instead we had to settle for Canseco getting his ass knocked out by Vai Sikahema. The two fought in Atlantic City after Sikahema accepted the challenge — Canseco had been offering 5 grand for someone to fight him. The 5,000 capacity stands were only about a quarter full according to the Atlantic City Press, with most fans there to support boxers on the undercard.
As for the action in case you were wondering, Jose Canseco got his ass knocked the **** out. No surprise. Sikahema came at him like a bull from the opening bell, knocking him down twice before the fight was finally stopped after Sikahema slammed Canseco with a flurry of punches. Ringside reports say the fight lasted slightly longer than Canseco's stint with the Devil Rays. Sikahema was just disappointed he didn't end the fight within 30 seconds. Maybe next time, buddy. Hopefully Canseco can now make a mortgage payment with the paycheck he pulled for getting his brains beat in. Sounds like a great business model.