Bill Belichick Playing Head Games with Eric Mangini and Brian Daboll?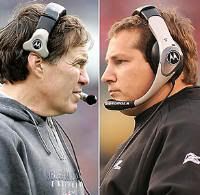 Because of Randy Moss' release in Minnesota and Mike Shanahan's treatment of Donovan McNabb in DC, many other side stories in the NFL have been overlooked this week. One such story that would normally be of more interest is Bill Belichick going up against Eric Mangini when the Patriots visit the Browns Sunday.
The history between Belichick and Mangini is well documented. Mangini was a ballboy with New England and rose through the ranks thanks to Belichick's recognition of his work ethic. Mangini ultimately became defensive coordinator of the Patriots and was one of several Belichick assistants to get jobs elsewhere. A year after becoming head coach of the Jets in 2006, Mangini notified the league of Belichick's practice of filming defensive assistants for playcall signals and the scandal became known as spygate. To say the two became mortal enemies after the incident would be an understatement.
Mangini's Jets teams went 2-4 against Belichick's Patriots from 2006-2008, but this will be the first meeting between the two with Mangini as head coach of the Browns. I mentioned this factor when I predicted the Patriots would cover the spread, figuring Belichick will want to stick it to Eric if he has the chance. It also appears as if Belichick has already gotten started with his games.
In a news conference Wednesday, Belichick said several times that the Browns run a West Coast offense. Asked about Belichick's assertion, Mangini laughed off the comment while offensive coordinator Brian Daboll, another former Belichick assistant, did not describe Cleveland's offense as a West Coast one. So if Cleveland does not run a West Coast offense, why would Belichick describe it as such? Likely because he's trying to mess with the coaches.
Maybe Belichick knows Cleveland plays it conservatively with many quick, short passes like a West Coast offense and he's trying to dare them into taking some chances figuring it will lead to turnovers. Whatever it is, you know Bill is getting the game started before kickoff looking for any advantage he can get. I'm already looking forward to it!