ESPN retires Mark Sanchez butt fumble as worst play on SportsCenter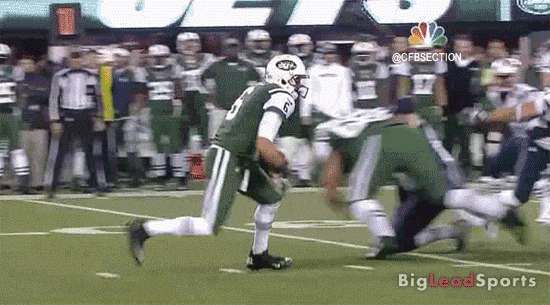 It was a move that had to be made. Mark Sanchez and the New York Jets brought us one of the most hilarious plays of all time last season in a game against the New England Patriots. In what became a fitting end to an embarrassing Jets season, Sanchez ran face-first into the backside of one of his offensive lineman and fumbled the ball. New England scooped it up and ran it in for a score.
The play has been airing on ESPN for the past 40 weeks as fans continuously voted it the "Worst of the Worst" highlight — no matter how many other boneheaded plays took place around the sporting world. On Friday, ESPN announced that it is retiring the play.
"We are retiring it this week due to the start of a new NFL season, and the feeling that it was time to start fresh," Senior Coordinating Producer Mark Summer explained. "The 'Butt Fumble' has won the 'Not Top 10′ each week since last Thanksgiving, and we're not sure anything could top it."
In other words, Sanchez and company could very well have cemented themselves as the creators of the most embarrassing play in NFL history. On one hand, I feel ESPN should let nature take its course. There hasn't been a single play that viewers deem more pathetic than the butt fumble. Then again, they might as well not even open the voting if the butt fumble was still there. It needed to be retired. At least we people can still do fun things with the play like turning it into a silent film.