Baseball Preview: Arizona D'Backs
Last year's record and finish are in parenthesis with projected improvement/decline indicated by plus or minus.

Arizona D'backs (76-86, T-4th in the NL West) +2 games

Get Crunked: Brandon Webb won the Cy Young meaning he was the best pitcher in the NL last year, pretty impressive. Add Randy Johnson, Livan Hernandez, and Doug Davis to the mix, and you're talking about a pretty decent rotation. Stephen Drew, Conor Jackson, Carlos Quentin, and Chris Young lead the Baby Backs movement, part II.
Party Foul: The bullpen still worries me, just because it's so awful the past few years. It's slightly improved this year, however. There are also far too many youngsters for me to believe they'll all put it together. Plus, haven't Randy Johnson and Livan Hernandez died yet? If not, they will soon.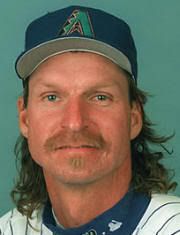 The handsome Unit is back in the Valley to rekindle his Cy Young days
What'd my GM do: A lot. Let's begin. He traded for Randy Johnson and Doug Davis to help the rotation. He re-signed Juan Cruz, Jorge Julio, Brandon Lyon, and Jose Valverde all to one-year deals to help the bullpen. In the process, Miguel Batista and Luis Gonzalez were lost as a free agents, while Johnny Estrada and Claudio Vargas were traded to Milwaukee. All in all, it's a lot of movement that I don't think will make the team any better or worse.
Lay it on me Straight: Too many young guys all a year away from carrying the offense to contender status, and too many old guys all a year away from dying on the mound.
So where my boys gonna finish right now:Â Slightly improved, but still far below .500.Â
Can we be better than that: If the youngsters become All-Stars, and the bullpen is able to put it together, then you're talking about a serious contender. But I think that's asking for a lot to happen.