Baseball Preview: Chicago White Sox
Last year's record and finish are in parenthesis with projected improvement/decline indicated by plus or minus.

Chicago White Sox (90-72, 3rd in AL Central) -1 game

Get Crunked: Paul Konerko, Jim Thome, and Jermaine Dye offer one of the better 3-4-5 combos in the league. All three can bash 40+ home runs, and hit for some average too. For guys who can hit for power at their positions, Joe Crede, Juan Uribe, and Tad Iguchi also play awesome defense, a big reason behind the White Sox success. Jose Contreras, Javier Vazquez, and Mark Buehrle are still filthy on the mound, and have a lot to prove this year. Bobby Jenks and Mike MacDougal are both fireballers with closing experience out of the pen.
Party Foul: Jon Garland got roughed up big time in Spring Training, making you wonder if hitters have figured him out. Although Buerhle has been an All-Star, one has to be concerned with his lack of receiving calls from umpires leading to his demise. John Danks is a total wild card at the No. 5 spot, and probably doesn't have the talent Freddy Garcia did. Scott Podsednik needs to overcome a groin injury, and Darin Erstad needs to avoid one.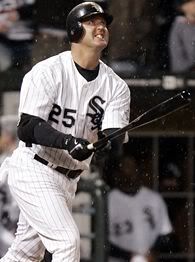 Jim Thome could easily crush 50 bombs and lead the league

What'd my GM do: At first looks, it appears as if Ken Williams was disbanding the team. He traded Freddy Garcia for Gavin Floyd, and Brandon McCarthy for Danks — but Williams seems to know what he's doing, so we'll see if his genius was working this off-season. Darin Erstad was signed at a cheap price to play CF since Brian Anderson hasn't worked out the way the Sox had expected him to. Moving Erstad back to center is probably a good idea; he's not a good enough hitter to put at first, and he's a wasted defender there as well.
Lay it on me Straight: They may have lost some pieces from their awesome teams the past two years, but they're still a fine club. For the type of disappointing year it appeared to be last year, this club still won 90 games. While I don't expect Dye or Crede to repeat his year, I don't expect the pitchers to be as bad as they were, so that should balance things out. It's still an elite major league team with good pop and proven starters.

So where my boys gonna finish right now: They'll be in the middle of the playoff race, fighting with the Tigers, Twins, and Indians within the division, but they're not good enough to keep up with the Yanks and Red Sox in the AL East. Their hope is to come out smoking with 93+ wins to take the AL Central, and not pack it in when it gets to September like last year.
Can we be better than that: Man, we've all seen what the pitching can do (see playoffs '05), so if they all get hot tossing complete games after another, they'll be cruising along winning 95 games. We all know their lineup is good enough to hit, my question is whether or not the pitchers can regain form.