Baseball Preview: Detroit Tigers
Last year's record and finish are in parenthesis with projected improvement/decline indicated by plus or minus.

Detroit Tigers (95-67, 1st in the NL Central) -3 games

Get Crunked: This lineup is as solid as it gets — I dare you to name me an easy out. Every single guy in the lineup is either a .300 hitter or 30 home guy, that's impressive. Plus, they added Gary Sheffield, who will no doubt be the best hitter on the team. The bullpen is also spectacular with Joel Zumaya and Fernando Rodney setting up Todd Jones, and Jose Mesa too! Justin Verlander, Jeremy Bonderman, and Nate Robertson make a strong trio at the top of the rotation.
Party Foul: Kenny Rogers' blood clot is the only thing that can hold this team back. It leaves a big hole in the rotation, coupled with Mike Maroth trying to return to form following an elbow injury last year. Other than that, I challenge you to find a weakness on this team.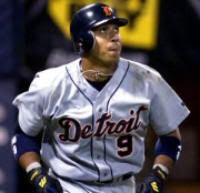 Carlos Guillen, possibly the most underrated SS in the game

What'd my GM do: He brought in Gary Sheffield, enough said. The Tigers already had a solid lineup, but with the addition of Sean Casey at last year's trade deadline, and Gary Sheffield in the off-season, they're set. Dombrowski extended Carlos Guillen for four years at $48 million, and he's well worth it. He also brought in Jose Mesa to help the bullpen, but the Sheffield addition was the key.
Lay it on me Straight: What the team may lack in it's 4th and 5th starters with Rogers out, they'll make up for in the solid performance of the pen, and the lineup improvement with Sheffield. It's truly a well-oiled machine.
So where my boys gonna finish right now: They'll win the division once again, coming out on top of baseball's best division. They won't win as many games as last year, nor will they have it locked up as early as they did, but they'll still win the division.
Can we be better than that: It'll be hard, 93 wins or so is a lot, especially considering Rogers is out, and how well he did last year. But man, if they did it last year without Sheffield and Casey, they can do it again this year.