Baseball Preview: Houston Astros
Last year's record and finish are in parenthesis with projected improvement/decline indicated by plus or minus.

Houston Astros (82-80, 2nd in the NL Central) +1 game

Get Crunked: Roy Oswalt could be the best starter in the NL, he's consistently awesome. Carlos Lee, Lance Berkman, and Morgan Ensberg will give Houston one of the best hearts of the order in the league. Dan Wheeler was exceptional out of the pen last year, and along with Chad Qualls can come to the rescue if Brad Lidge struggles again. Jason Jennings finally gets out of Coors Field, where he still managed to put together a decent career. Woody Williams can still get the job done as a starter.
Party Foul: There's a huge rotation drop off in the rotation after slots 1-3. Wandy Rodriguez isn't much, and who knows what Chris Sampson will bring. Craig Biggio is starting to slip offensively, but he can still hit for some pop. Adam Everett and Brad Ausmus are excellent defensively, but they leave big holes in the lineup. Brad Lidge blew more than Lil' Kim last year. They can't compete if he doesn't turn it around.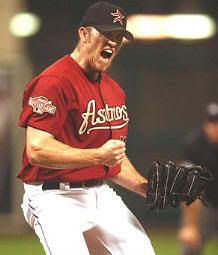 Houston's success hinges upon Brad Lidge's ability to bounce back

What'd my GM do: He signed Carlos Lee to a six year $100 million deal, which is a lot, but they needed the extra bat in the lineup. They ended a lot of questions by signing Roy Oswalt to an extension last year, keeping one of the best pitchers in baseball around for another five years. They also traded away Jason Hirsh and Willy Taveras to Colorado for Jason Jennings which was worthwhile since Taveras couldn't get on base, and Hirsh will have to show a lot to match Jennings. Purpura brought in Woody Williams on a two year $12.5 million deal which isn't a ton of money for the innings Woody should give them. Mark Loretta was an excellent acquisition and provides good depth around the infield.
Lay it on me Straight: The hitting is vastly improved with Carlos Lee's stick in the lineup. He'll give the power they've needed desperately over the past few years — what Jeff Bagwell was supposed to give them. The team defense is pretty good, and the pitching is questionable, with a lot of it hinging upon Brad Lidge's ability to close games.
So where my boys gonna finish right now: They'll be around .500, a few games above that mark most likely. Lidge cannot blow as many games as last year, and if he does, Garner must go to Wheeler and Qualls quicker.
Can we be better than that: Nope, the pitching isn't good enough. Luckily Carlos Lee makes the offense stronger, but it's hard to be too improved without Roger Clemens and Andy Pettitte.