Baseball Preview: Kansas City Royals
Last year's record and finish are in parenthesis with projected improvement/decline indicated by plus or minus.

Kansas City Royals (62-100, 5th in AL Central) + 2 games

Get Crunked: Mark Teahen looks like a future star in the league (as long as he recovers from shoulder surgery). David DeJesus and Mark Grudzielanek are .300 hitters, Ryan Shealy has 20 homer potential. Gil Meche and Odalis Perez give some stability at the top of the rotation, taking pressure off the less-experienced players. The roster isn't as young as it used to be now that the rookies have some experience and a few vets have been mixed in, finally allowing players to develop in the minors. Oh yeah, don't forget about the must have Still Loyal T-shirts.
Party Foul: This might be hard considering Royals fans are preconditioned to disappointment, but on with the harsh reality. It's very sad when 18 home runs can lead your team, especially in a league with DH, but such is the life for KC. The bullpen once again is awful, literally pitiful. Should you be lucky enough to have leads, holding onto them will be an entirely different story. And lastly, like life, death, and taxes, Mike Sweeney will get hurt.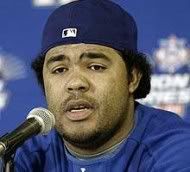 In case you forgot, Odalis Perez is a Kansas City Royal

What'd my GM do: The Gil Meche signing has been the talk of baseball — rather that the Royals paid $55 mil for a guy most fans haven't heard of. I'm not wild on Meche, but it's not a horrible contract considering the rest of the free agent pitching market. Octavio Dotel at $5 million is the other major acquisition — one I'm not a big fan of. That's a lot of money for a guy who's thrown 25 innings in the last two years after blowing out his arm. Dayton Moore also traded Andrew Sisco for Ross Gload, and Ambiorix Burgos for Brian Bannister, two young arms that would've helped the pen.
Lay it on me Straight: The lineup is still just too unimpressive to compete in the American League. The rotation is more stable now, but still nothing to write home about. The bullpen is simply dreadful.
So where my boys gonna finish right now: Last in the AL Central, still a long way from .500.
Can we be better than that: If Shealy and Teahen rake, DeJesus and Grudzielanek stay healthy, Bannister or Greinke emerge, and Dotel returns to pre-injury form, then you're talking about a few more wins. Of course the odds of all this happening is quite slim.