Baseball Preview: Minnesota Twins
Last year's record and finish are in parenthesis with projected improvement/decline indicated by plus or minus.

Minnesota Twins (96-66, 1st in the AL Central) -13 games

Get Crunked: Hmm, let's see. The Twins have the best catcher in the game, the best starter in the game, and quite possibly the best closer in the game. Oh yeah, they also have the reigning league MVP at 1B. Those players are Joe Mauer, Johan Santana, Joe Nathan, and Justin Morneau. Torii Hunter still plays some stellar defense in center, and hits for power. Michael Cuddyer blew up offensively last year and finally showed his 1st round potential. Pat Neshek, Dennys Reyes, and Juan Rincon were awesome last year, and round out one of the most complete bullpens in baseball.
Party Foul: Francisco Liriano is out for who knows how long. That's a huge loss because he was as dominant as Johan Santana last year, and the pair would've been good for like 40 wins themselves this year. His injury leaves a gigantic hole in the rotation, leaving spots 2-5 in the rotation as a mess. They are projected to be occupied by Boof Bonser, Ramon Ortiz, Carlos Silva, and any combination of Matt Garza, Sidney Ponson, or Scott Baker.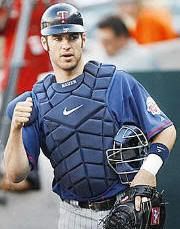 At only 23, Joe Mauer is already the best catcher in baseball
What'd my GM do: He locked up Joe Mauer for four years so Twins fans won't have to hold their breath too long on Joe. Unfortunately he didn't have the same success with Justin Morneau or Cuddyer, only signing them to 1 year deals. Beyond that, nothing else mattered. The biggest obstacle for Minnesota will be finding a way to keep the core of Mauer, Morneau, Santana, and Nathan together. While Mauer's good to go, it looks like some of the other guys will unfortunately be gone. Will Terry Ryan be able to stay competitive like Billy Beane did when the A's lost Tejada, Giambi, Foulke, Hudson, and Mulder?
Lay it on me Straight: Everything broke right for this team last year. The offense got hotter than shit, with Mauer, Morneau, and Cuddyer putting together career years (even though they're all young, I figure they'll all be hard-pressed to ever reach those numbers again). Santana and Liriano were the most dominant duo since Big Unit and Schilling teamed up in Arizona, and it showed. The bullpen was un-hittable last year, and on the last day of the season, the Twins snuck into 1st place. Think about all those things that went right last year, and ask yourself if you realistically think it can all happen again this year.
So where my boys gonna finish right now: Still above .500 by a few games, but they won't be in the thick of the playoff hunt like last year. Where they finish in the division depends on how the season plays out for Chicago and Cleveland. I'm thinking that all three teams will be within 2-3 games of each other.
Can we be better than that: Hey, you won 96 games last year and finished in 1st, who's to say it won't happen again? I just don't think history's likely to repeat itself.