Baseball Preview: San Diego Padres
Last year's record and finish are in parenthesis with projected improvement/decline indicated by plus or minus.

San Diego Padres (88-74, 1st in the NL West) -1 game

Get Crunked: It's an awesome pitching staff, not just on name recognition, but on performance. These could be the best group of starters in the majors 1-5. Jake Peavy should be ready to embrace the ace role and be in Cy Young contention, Chris Young was awesome last year, Maddux is still made for 6 good innings, David Wells is a question mark, and Clay Hensley is very underrated. The bullpen is also fantastic. Trevor Hoffman proved last year he's still an elite stopper, and good luck beating these guys if you're down after the 6th inning, Cla Meredith and Scott Linebrink are pretty un-hittable.
Party Foul: The lineup doesn't have a whole lot of pop. 20-25 homers will lead the team, and they're not going to score a lot of runs. Kouzmanoff, Bard, Sledge, and Marcus Giles are all new-comers, but they're not filling huge holes, so the Pad squad should still be OK.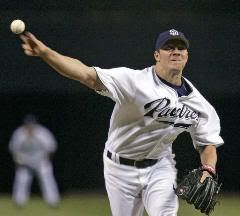 Jake Peavy is filthy and prime for a huge year

What'd my GM do: It was a busy off-season for Kevin Towers. He signed Maddux for one year at $10 million in order to make another playoff push. He traded Josh Barfield to Cleveland for Kevin Kouzmanoff and Andrew Brown. The Barfield trade cleared a hole for Marcus Giles at 2B, who was extremely cheap at under $4 million and should be just as productive. He lost Mike Piazza in free agency, but Josh Bard looks like he can take over if last year was at all a sign. He also just locked up Adrian Gonzalez for four years, which is an excellent sign since Gonzalez is their best hitter.
Lay it on me Straight: The pitching is so good it will keep the Padres in contention all year long, and send them to the playoffs. The lineup might not be powerful, but it could surprise people since it's doesn't have too many glaring holes. They also play excellent defense which helps them win close games. It's a very good club, built around pitching as it should be in that park.
So where my boys gonna finish right now: They'll be right around where they were last year, but probably behind the vastly improved Dodgers. They'll be one of the top teams in the league and in the wild card hunt at the least.
Can we be better than that: If the hitting truly comes around, like Kouzmanoff, Sledge, and the Giles Brothers, and everything else from last year stays the same, they could take the division with 90+ wins.