Bobby Cox Displays Creative Genius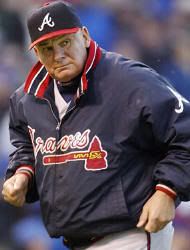 I love it when managers think outside the box. Too much of baseball is "by the book." Guys playing percentages, playing Juan Pierre every day while benching Kemps and Ethiers. You just wish there was more creativity. Mike Scioscia is one of these guys, but even he took it too far when he put on the hit and run with the Molinas. Anyway, Braves' manager Bobby Cox pulled off a stunt worthy of our attention. I'll defer to the AJC for the details:
[Braves reliever Chris] Resop walked two of the first three batters in the 10th inning, and one advanced to third on a passed ball, before Cox brought in left-hander Royce Ring to face Adam LaRoche, who struck out.

Resop was sent to replace Matt Diaz in left field when Ring entered the game, so that Cox could then bring Resop back to pitch after the LaRoche at-bat. The right-hander returned to the mound to race Nady, who drove in the go-ahead run with his sixth hit and seventh RBI of the three-game series.
…
Cox said he made the move because he wanted Resop to be available to come back and pitch beyond the 10th inning, if necessary, so that reliever Peter Moylan could be assured of having a night off after pitching in each of the first three games of the season.
Even though the move didn't work out — and let's be real, no pitcher can stop the force that is Xavier Nady — I like where Cox's head was. Word on the street is that Resop used to be an outfielder when he first came up, so it wasn't a stretch to have him out there. Makes complete sense to me. Like I said, I really enjoy seeing managers think outside the box, even if it didn't work out in this case.