Glad to See Bud Selig Is Keeping Up with the Instant Replay Times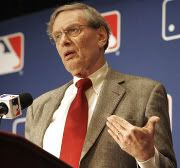 Outside of the brilliant pitching of Cliff Lee and CC Sabathia (add Rivera to the list?), the biggest topic of the MLB postseason has been the horrendous umpiring. Things started with Phil Cuzzi's blown call on a Joe Mauer leadoff double against the Yankees in the ALDS. Then C.B. Bucknor blew a few calls in favor of the Angels against the Red Sox at first base in the ALDS. After that, the umps blew about three calls in Game 4 of the ALCS between the Yankees and Angels. Considering the egregious nature of these calls and the indisputable evidence from the instant replay we saw on TV, you figure the logical step would be to allow the umpires the opportunity to review their call when they make such a bad **** up. But not under Chief Selig's watch:
"I've talked to a lot baseball people about this recently — that includes on the field and executives," said Selig, explaining his position at length. "Believe me, they have a lot of trepidation about expanding it. [Angels manager] Mike Scioscia put it very well: The umpires get it right 99 percent of the time.

"Times change, but I'm still in favor of keeping the human element as a part of it, and I'm also very concerned about pace. I think there are other ways we can make corrections. During the offseason we'll review everything. I've made my position clear, and by the way, I think it's the position of most people in baseball. You have to be very careful when you tamper with a sport."
Dude, we're not saying get rid of the human element and have pitch tracker call balls and strikes, we're just saying take the freaking five minutes to let the umpires see how badly they effed up with the Joe Mauer call or when Mike Napoli tagged out both Yankees at third base. That would go a long way towards preserving the purity of the game. Wait a sec, did I say purity? This is Selig we're talking about. Why would I expect anything different? Still, MLB has to do something to correct this issue.