David Price Victim of Rays' Goals for Long-Term Success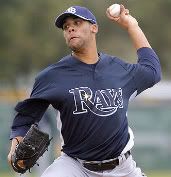 David Price is such a baller that I made the case for him as ESPN The Magazine's "NEXT" athlete over Matt Ryan, Joey Logano, and Ricky Rubio. Hard to go from calling him the next greatest pitcher in baseball to seeing the Rays option him down to Triple-A to start off the season. So if this guy already proved he's the goods by nutting up huge in October, and if the Rays are serious about repeating as AL East champs, then why would they send potentially their best pitcher down to the minors to start the year? The Rays argue that they want to see Price develop more command of his fastball and better pitch efficiency. Whatever that means. I'll tell you what they really mean.
The Rays are doing something the Yankees never would have the discipline to do — they're taking it slowly with a player. For the Rays, most of the decision has to do with the economics of the game. Sure, in there eyes it probably can't hurt Price to work on a few more things at a lower level but I imagine they all know he's ready for the big time. The bottom line is that Tampa is trying to build a team that can achieve long-term success, not just be a one year wonder. And you don't achieve long-term success by bringing guys up earlier than you should nor by starting their league service time clock earlier than needed (because it brings players that much closer to free agency). Lastly, and this is probably the part most people don't realize, the Rays are handcuffed by Jeff Niemann and that's why Price is suffering. Niemann was the team's first-round pick, 4th overall in '04. Since the 6'9″ right-hander is out of options, they have to give him a crack at the final spot in the rotation before they just let him go. Niemman's a guy who went 17-0 his second year at Rice. They know he could be a gem. They're not just going to let him walk for nothing, so might as well see what he can do because they could end up with some excellent trade bait that will only make the team stronger in the long run.
In the meantime, poor David Price, though he seems as ready as a pitcher can be, must grit through another April in Durham. He'll be up with the club in no time and hopefully it won't be too late for Tampa by then. Think long-term, Rays fans (however few you may be), and have faith in your team's front office.