Dodgers Harness Power of the Gnome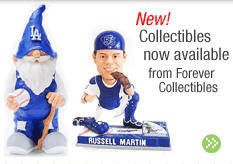 After seeing the Dodgers finally figure out what those brown wooden things on their shoulders were meant for Wednesday night, the post-game interview between James Loney and Lindsay Soto provided more than its share of entertainment. Besides the obvious levels of awkwardness, there was one interesting nugget of info that came out of it: apparently the previously offensively-challenged Dodgers have a new good luck charm that has allowed them to produce runs lately.
About the only explanation Martin could give for how a team that scored nine runs and had 15 hits the previous night could be held to a single run for the fourth time in five games had to do with the "hitting gnome" — a computer printout of a blue-clad garden gnome sold on the Dodgers' official website.

The picture wasn't taped to one of the dugout benches until after the first inning.

With the image of the gnome in the dugout on Monday night, Martin reached base five times and was three for three with a double. Martin struck out in the first inning on Tuesday night, but once the picture of the gnome was produced, Martin proceeded to draw three walks.

"Gnome, man," Martin said shaking his head. "I've got to put him in my back pocket."
Martin reached based three of five times on Wednesday as the Dodgers beat Dan Haren and the D-Backs 8-3. Has to be the gnome. And even if it isn't, I'm sure the sales at the Dodgers shop can't be hurting. But honestly, what the heck is a Dodgers garden gnome? Who came up with that? Bobbleheads I get, jerseys, hats, autographs all make sense. But a garden gnome? Are you kidding me?