Gary Matthews Jr.'s Agent Says Gary's Sorry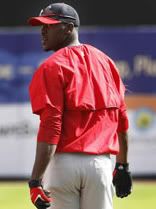 How ridiculous is this — after causing a serious distraction — the worst the Angels have had since owner Arte Moreno took over and successfully changed the team's name from Anaheim to Los Angeles — Gary Matthews Jr. apologized — sort of.
As noted by PostmanE in MLB Fanhouse, Gary Matthews Jr.'s agent had to apologize for Matthews causing such a distraction
"Gary regrets the distraction this story has caused the Angels' front office, the manager and his staff, teammates and fans," agent Scott Leventhal said in a statement. "However, given the ongoing investigation, he simply cannot discuss this matter until appropriate to do so. Gary sincerely apologizes for this distraction and is determined to resolve this issue in a timely manner."
It's about time someone from the Matthews camp spoke up. Of course anyone who reads this site already knows how I feel about Gary Matthews Jr., so I already had drawn my own conclusions. But how lame is that? You go out and hire OJ's attorney (uh huh, that won't draw any suspicions of guilt), remain mum for weeks, and then have your agent speak for you? How pathetic.
Bottom line, owner Arte Moreno has built the Angels into a well-respected organization of prominence; they are perennial contenders, draw more fans than most MLB teams, and overall are considered a classy organization. To Arte, the Angels are a business — they are HIS business.
And one thing Gary Matthews Jr. better get straight — nobody fucks with Arte's business– ESPECIALLY when you represent the team's biggest free-agent sign of the off-season and when you'll be cashing in $50 million of the man's money.