Hanley Ramirez Getting Paid by Marlins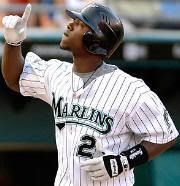 It's quite ironic. I was just having a baseball conversation with my Dad and he said that there aren't many better bargains out there than what Albert Pujols is making from St. Louis. I countered quickly by asking, "what about Hanley Ramirez?" That was a quick conversation stopper. Unfortunately that will only answer the question for the next few months. The news out of South Florida is that the Marlins and Hanley Ramirez have agreed on the framework of a six-year $70 million contract. Hanley would have been arbitration eligible after this season, meaning for the next three years he'd probably earn around $4 mil, $8 mil, and $12 mil, or something around that range. Then on the free market for a three-year deal, he probably would have easily earned $50 million. He probably sold himself short by around 5-10 million at the least.
The good news is two-fold. It's a great sign that the Marlins are actually locking up a star and not just letting them go like usual. They traded away one of the top young hitters in the game (top five if you ask me), in Miguel Cabrera, when any sane team would have done anything possible to keep such a talent. Additionally, I love it when players take "paycuts" to stay with their teams. I'm all about the hometown discount — it breeds competitive balance. That's why I wanted the Twins to keep Johan. I think players for the most part should stick with where they've been successful so long as they're comfortable. Hopefully this deal can get inked so the Marlins will have at least one top player for years to come, and so Hanley Ramirez can become the face of their franchise. It would be good for all parties.