So Jeff Samardzija Throws Pretty Hard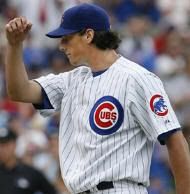 To understand how I feel about Jeff Samardzija, all you need to know about is one play. Does 20-17 say enough to you? In case it doesn't, here's a refresher. Anyway, it's pretty incredible to see the guy go from balling on the football team at Notre Dame to pitching for the Cubs in only two years. As much as I couldn't stand the guy, Samardzija was a darn good receiver for the Irish. It's not too often that you see college-level D-I athletes playing more than one sport and playing well at it.
Anyway, after getting drafted in '06 and going on to pitch in A-ball, Samardzija split his time between A and AA ball last year. This year, Samardzija got promoted from double-A to triple-A ball and even got called up after Kerry Wood went on the disabled list. I don't know about you, but it pretty much blows my mind to see this guy pitching in the majors leagues so shortly after his college football career came to a close. This is a guy who could be in training camp right now and instead he's already made the majors. Though he gave up a run to the Marlins in relief and blew the win for Ryan Dempster, the kid looked good humming between 97 and 99 mph. I don't think he'll be able to get by on speed alone at the majors (we already saw him get burned by Jorge Cantu), but I think it's pretty amazing that he's this talented at two sports. Makes you wonder, why wasn't he playing quarterback instead of Quinn?