Jose Guillen Was the Mariners' Glue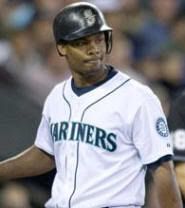 With the Mariners in town to visit the Royals for a weekend series, it gave the Seattle writers a chance to catch up with former Mariner Jose Guillen. And believe me when I say this, I was absolutely floored to read the comments not only Guillen made about the state of the Mariners, but also what fired GM Bill Bavasi had said about him, and what the writer himself felt:
With [Guillen] went the one Mariner who held his teammates to a higher standard. If he needed to get in someone's face to see the game played right, he'd do it.

This year's team is missing that.

As Guillen said, "they are a bunch of good guys." There is no one in the Mariners clubhouse with an edge. Bill Bavasi said as much on June 16, the day he was fired as general manager, saying not having Guillen around hurt the team.
Let's see, Guillen got in the face of his KC teammates in late May and they're still 10 games below .500. He left the Angels after 2004 and they did even better the following year. Man, the very idea that Jose Guillen is the missing link to the Mariners this year makes me chuckle. Please.