Kyle Farnsworth Done Lost His Mind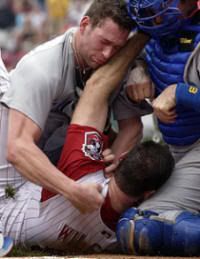 Who and what does this guy think he is? Better than Mariano Rivera? It appears as such. What a joke, what an utter joke. He throws his glove after being jacked from the game in the 8th — his inning — in favor of Mariano Rivera. What a whiny baby. Quite clearly, Joe Torre was not happy about the reaction, and even called Farnsy out:
Fortunately for the Yankees, Mariano Rivera "came in and bailed out Farnsy," as Torre put it, striking out three in recording the final four outs to preserve a 2-1 victory over the A's last night at the Stadium.

"(Farnsworth) was upset, but he has to understand it shouldn't be an embarrassment to bring Mariano Rivera out of the bullpen," Torre said. "I know you get passionate about what you do, but you certainly hope you keep in mind – whether it's Farnsworth or anybody else on our team – that everybody is working their (butt) off to do the same thing. You certainly don't want to call attention to yourself for that reason."
What a selfish little ****. I understand the competitive fire players may have. I understand that they don't want someone else to finish their job. But please Farnsworth, grow up man. No wonder a bunch of teams have tossed you around. Bad head on them shoulders.