Mark Teixeira Pwns Bruce Chen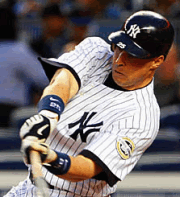 I've seen cases where batters have had good records against pitchers before but I don't ever remember seeing anything quite like what Mark Teixeira has done against Bruce Chen. Strange combination, right? I know, but the numbers speak for themselves. Prior to Thursday's Yankees/Royals game, Mark Teixeira was 7-for-11 against Chen. Six of his seven hits were home runs and the seventh was a double. For those of you keeping score at home, that's a ridiculous 3.030 OPS. You can't even do that on a video game.
Teixeira was back in usual form against Chen on Thursday in the Bronx, mashing an RBI double and a single in his first two ABs vs. the lefty. He did strike out in his third at-bat of the game before Chen was lifted. Teixeira ended up 3-for-5 with two runs scored and an RBI. In 14 career at-bats against Chen, Tex is now 9-for-14 with six home runs and two doubles. That's good for a healthy .643/2.143/2.810 line. That is pure pwnage unlike anything I've ever seen.
Sources:
Mark Teixeira's splits [Baseball-Reference]