Mets Sure Know How to Blow a Game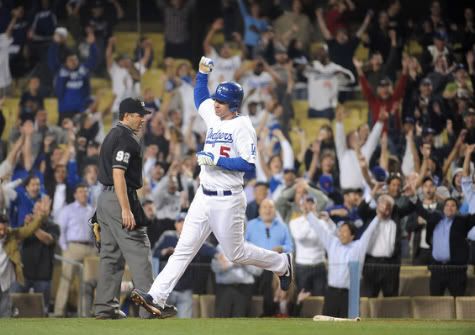 Though Mets fans have been used to this recently, I can't imagine them being too accepting of Monday night's loss to the Dodgers. Really, this was a new low for them, almost as if they're inventing ways of losing games. In case you missed it, the Mets committed five — count 'em — five errors against the Dodgers. To make matters worse, after tying things up at 2-2 in the 8th and going to extras, they were poised to take the lead 3-2. One minor issue got in their way — Ryan Church failed to touch third base when he was trying to score from first on an extra-base hit by Angel Pagan. So what appeared to be the game-winning run turned out to be one of the biggest blunders of the season for the Mets.
As if Church's screwup wasn't enough, the way the Dodgers scored the game-winning run in the bottom of the 11th was just as embarrassing. First off, Xavier Paul reached when his fly ball to left field fell because Angel Pagan failed to yield to center fielder Carlos Beltran. That put men on second and third and then the Mets walked Juan Pierre intentionally to load things up. They got Rafael Furcal to fly out and appeared to escape the jam when Orlando Hudson grounded one to Jeremy Reed who was playing first. Reed threw wildly up the third base line past catcher Ramon Castro, and the Dodgers won it. Two errors by the Mets that half-inning, giving them five for the game. Yes, this is the same Jeremy Reed who has been an outfielder his entire career, never a first baseman. And yes, Ramon Castro was already setting up to turn a double-play and that's why he wasn't in position to knock Reed's throw down.
My goodness, like I said, it's almost like the Mets are inventing new ways of blowing games. What a drag for the fans — this one really was emblematic of the past several seasons for the Mets franchise. They better score about 10 runs Tuesday night to make up for it.