My NL All-Star Team
I already presented my AL All-Star team. So, without further ado, here's how the NL All-Star team should look, based purely on performance:
National League Starters


C – Russell Martin, Los Angeles
1B – Prince Fielder, Milwaukee
2B – Chase Utley, Philadelphia
3B – Miguel Cabrera, Florida
SS – Hanley Ramirez, Florida
LF – Barry Bonds, San Francisco
CF – Ken Griffey Jr., Cincinnati
RF – Matt Holliday, Colorado
NL Pitchers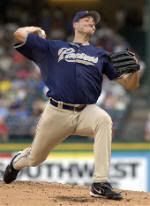 SP *Jake Peavy, San Diego (starter)
SP Brad Penny, Los Angeles
SP Chris Young, San Diego
SP Ben Sheets, Milwaukee
SP John Maine, New York
SP John Smoltz, Atlanta
SP Tom Gorzelanny, Pittsburgh
RP Takashi Saito, Los Angeles
RP Francisco Cordero, Milwaukee
RP Jose Valverde, Arizona
RP Trevor Hoffman, San Diego
RP Billy Wagner, New York
NL Reserves

C Bengie Molina, San Francisco
1B Albert Pujols, St. Louis
1B Dmitri Young, Washington
2B Orlando Hudson, Arizona
3B David Wright, New York
SS Jimmy Rollins, Philadelphia
SS Jose Reyes, New York
SS Edgar Renteria, Atlanta
SS J.J. Hardy, Milwaukee
OF Eric Byrnes, Arizona
OF Carlos Lee, Houston
OF Alfonso Soriano, Chicago
My Changes
Miguel Cabrera and Hanley Ramirez are starters, as is Matt Holliday
Chris Young, John Maine, Tom Gorzelanny, Eric Byrnes, Jimmy Rollins, Bengie Molina and Edgar Renteria are all on the squad
Carlos Beltran, Cole Hamels, Brian Fuentes, Brian McCann, Aaron Rowand, Freddy Sanchez, and Derrek Lee are out
Biggest Problems
Completely overhauling LaRussa's jacked up team. Finding a way to get all five shortstops into the game because they all deserve it.
My Snubs
Ryan Howard, Derrek Lee, Brandon Phillips, Aaron Rowand, Carlos Beltran, and Adam Dunn
Cole Hamels, Derek Lowe, Jason Isringhausen, and Brandon Webb