Nick Lachey Almost Bought the Reds?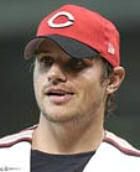 About a year ago, man-bander Nick Lachey became an owner of a minor league baseball team called the Tacoma Rainiers. That's cool to me, because the dude can probably pour a little bit of cash into the organization should the need arise. What I didn't know however, was that Lachey almost joined the elite company of Marge Schott. In an interview with the Seattle Post-Intelligencer, he says he almost bought the Cincinnati Reds.
How did you get involved with the Tacoma Rainiers?

About two or three years ago, I was involved with a group that was trying to buy the Cincinnati Reds, which is my hometown. And we didn't get the team, but obviously it kind of sparked that interest in me. The Rainiers were up for sale and… it was a good opportunity.
Hot damn, I'm just glad we didn't have to find out what the 7th inning stretches would have been like at that ballpark. Who would've thrown out the first pitch on Opening Day? Backstreet Boys? O-Town? Good thing we didn't have to live through that chapter of life. Could you just see Lachey chewing out Edwin Encarnacion after a game? ROTFLMAO!