Orlando Cabrera Keeps Scorekeepers in Check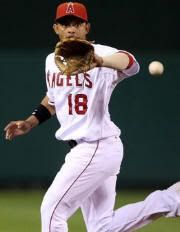 I'm not really sure if I should laugh at this story or feel embarrassed by it. Since I'm an unabashed Orlando Cabrera fan, I'm going to give him the benefit of the doubt on the matter. And a little background on the story, first. I heard an interview OC gave within the last year where he was campaigning to win the Gold Glove award, sharing with the listeners how much pride he takes in playing excellent defense at shortstop. OK, now onto the incident(s) that rubbed Ozzie Guillen the wrong way, as passed along by the One Dog, Lance Johnson:
Guillen read a story in the Sun-Times on Sunday that brought to light the fact that twice this season Cabrera has called up to press boxes during games to complain about errors that were charged to him: once in Toronto and a second time at U.S. Cellular Field.

"If things continue to happen, I'm not going to say we're going to have a problem, but I don't think it looks good to his teammates for him to worry about his numbers, especially the way we're playing," Guillen said Monday. "I know I never did that. That's something the manager or coach should do. I'm not going to say don't call up to the box, but it looks kind of bad. When I played, we didn't worry about that. That was for someone else to look at and handle. But the bottom line in all this is whether we win or lose.

"Obviously, a good player, a Gold Glove winner, you want to have a good season for the free agency, and different guys respond to that stuff differently."
Here's my shameless defense of OC. First off, he's a guy who has taken pride in his defense his whole career, not just entering his free agent season. If you work hard and play hard, you want to be rewarded with awards when you deserve it. And since so much of the game is based on numbers, I can understand where he'd want those numbers to correctly reflect reality. If I were A-Rod, Delgado, Francisco, or one of the other guys who had home runs robbed within the last week, I'd be pissed. This is exactly how OC feels, no doubt. How can some schmo who's never played shortstop before at the major league level tell me whether or not that play should have been made? It's just a judgment call, open to human decision. I feel for you, OC, I feel for you. Next time just have your agent make that phone call, don't do it yourself.