Poor Manny, Nobody Wants to Sign Him :(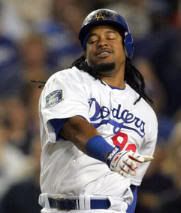 It wasn't long ago that Manny dropped one of the best lines by an athlete in recent memory. In October of last year, while Manny was crushing NL pitching, my stock portfolio was riding high, and gas was $4 a gallon, Manny proclaimed, "I want to see who is the highest bidder. Gas is up and so am I." Unfortunately for Manny, the declaration of a national recession has curbed spending and free agents have settled for less than market value based on previous years. As fate would have it, Manny who loafed it in Boston to escape the bounds of a contract that would have paid him well over $40 million for two more years, now might not be able to score that kind of loot. His asking price probably hasn't changed much, and he's feeling left out:
Albert Pujols is encouraging the St. Louis Cardinals to sign Manny Ramirez.

"I speak with Manny every three days and he tells me, 'Man, no one wants to sign me,' Pujols said today during a news conference. "I'm not an agent or general manager, but I can't understand how Manny has not signed."
Plenty of teams would want Manny's stick in their lineup, but I'm sure none want to meet his asking price. They're probably still seeking nine figures and Boras having negotiated a nearly $200 million deal for Mark Teixeira means he's probably inclined to keep waiting until the sticker price is met. No one wants to sign me? Yeah, at four years for $100 mil. Drop that to two years for 30, and I'm sure you'll find plenty of takers. Perhaps karma is taking its toll.