The Rich Only Get Richer: Max Scherzer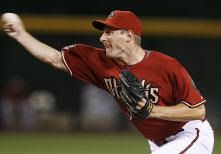 Through the first month of the season, it's pretty clear that there's one team head-and-shoulders above everyone else: the Arizona Diamondbacks. They've consistently been winning at a .700 clip this year, and they've already had an 8-game winning streak. They lead the majors in runs scored and runs batted in when it comes to offense. As a nice complement, they also lead the majors in ERA and WHIP. So that pretty much means they have the best hitting team as well as the best pitching team in baseball. And as if having the 6-0 Brandon Webb — the clear favorite for the Cy Young at this point — isn't enough, then having four-game winners Dan Haren and Micah Owings in the rotation is also pretty good. To make matters worse for opponents, Randy Johnson is back and mastered the Padres last time out (yeah, I know, it was San Diego, but still). So what does this all mean? The best may be yet to come: Max Scherzer has been called up.
Max Scherzer was ridiculous in Triple-A Tucson this year, going 23 innings over four starts, allowing just three runs. In a display of sheer dominance, Scherzer only walked three batters while striking out 38. He only gave up 12 hits. And Max made his Major League debut on Tuesday night in long relief of Edgar Gonzalez who got smacked around by Houston. Gonzalez allowed six runs over two and two-thirds, and Scherzer came on in relief. Max's line: four and a third perfect innings with seven strikeouts. So Randy Johnson comes back from back surgery, Doug Davis is recovering from thyroid surgery, Webb, Haren, and Owings are dueling for the Cy Young, and on top of all this, the rest of the NL now has to worry about Max Scherzer. Pity the rest of the league, pity them.