How Long Before Ryan Howard Leaves Philly?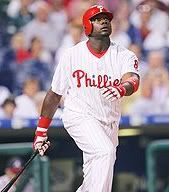 The big news of the day in the world of baseball — outside of the surprise that Jonathan Papelbon didn't take the Red Sox to arbitration — was Ryan Howard's submitted salary for the arbitration process. Howard has asked for an $18 million salary for the upcoming season while the club has offered 14 mil. He'll receive one or the other, not something in between. Last year Howard won his arbitration hearing with the club, receiving $10 million rather than seven. That was his first year of arbitration eligibility given his status as a super-two player (most major leaguers need three years of service to be eligible for arbitration, Howard had played two and a half). My point is that Ryan Howard has already experienced the ugly side of the game once and will now have to sit through another round of his team arguing against him.
Players are humans too and there's only so much criticism and negative sentament one can take. After his second year of arbitration with the club, particularly one after winning a World Series, he probably won't have much love left for the organization and its front office. Imagine if Howard loses his arbitration case and is reminded how crappy his defense is and how many strikeouts he amassed? What will he think? Sitting behind Jim Thome in the minors all those years, Howard will be 29 this season and in his early 30s when he's eligible to become a free agent and bolt town. He's already seen the team extend Cole Hamels in order to avoid arbitration and no doubt can't be happy about that. Now that he's won the World Series, if the guy loses arbitration, I could imagine him asking for a trade. Keep your eyes on this case, because I don't see Ryan Howard sticking with the Phillies any longer than he has to, the 2012 season being the earliest.